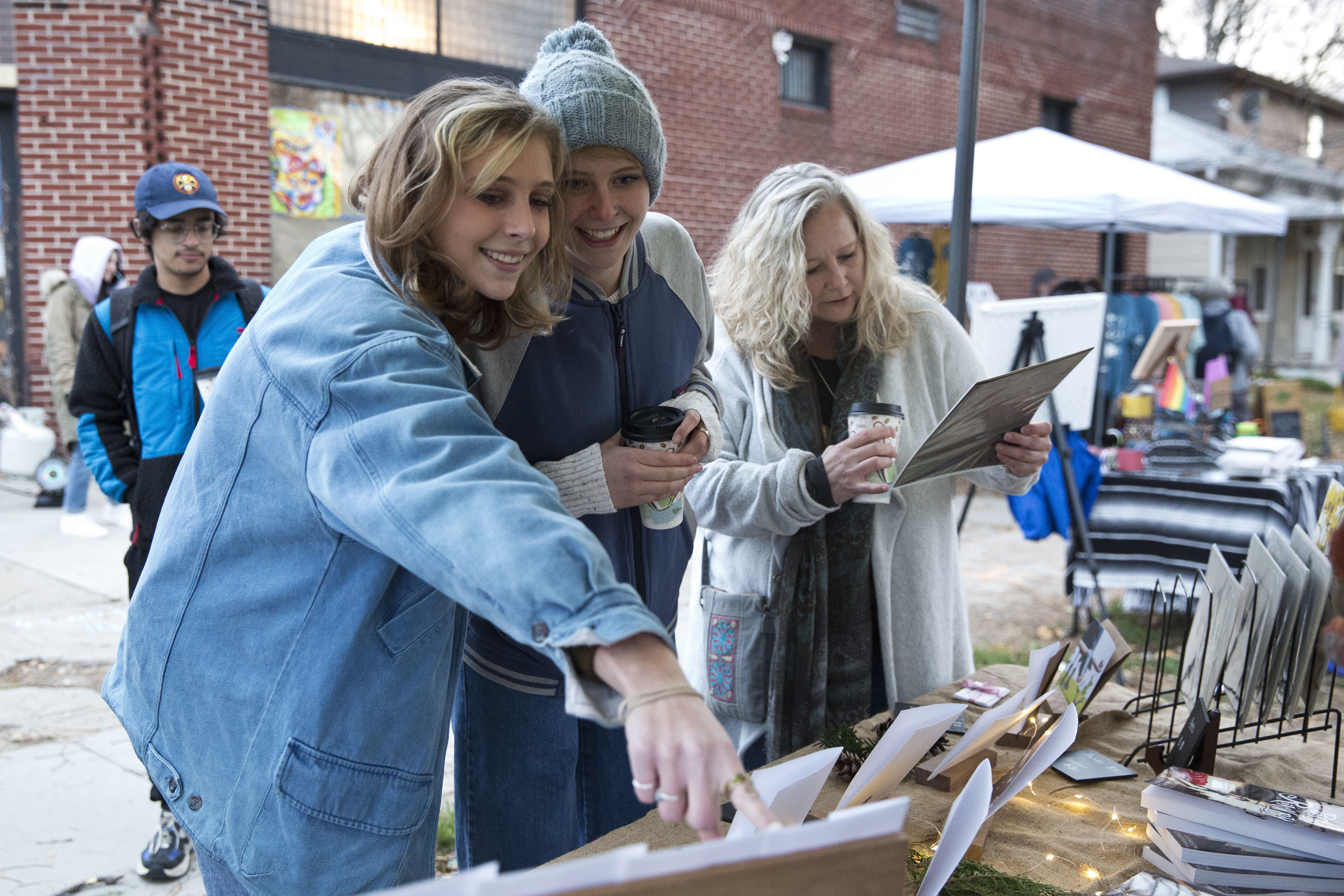 Nearly one year after launching the online Makers Market in the midst of the COVID-19 pandemic, we gathered in person again with 362 of our neighbors and 22 makers at the South of Downtown Holiday Makers Market. While words cannot capture the depth of our gratitude for the ways in which we came together this November, we do want to share some of our hopes for how we can gather and support our creative community moving into the new year. 
First, we want to reflect on why the Makers Market was started two years ago. When SDCDO was born in 2015, we had and still have a mission to enrich the quality of life for our neighbors in Everett and Near South. We started by knocking on doors and asking our neighbors what they like about their neighborhood and what they would like to change. In our first few years, we had hundreds of conversations, knocked on more than 1,000 doors in our community, and we learned that small businesses play a key role in why folks like to call our neighborhoods home. We met so many creatives making everything from prints, knits, ceramics, and more, and we wanted to support the already existing and growing creative entrepreneurs in our community. 
In August 2019, we hosted dozens of makers at the South of Downtown Art Hub on the corner of 11th and B to sell their goods, and nearly 400 of our neighbors and stakeholders stopped by to shop. Most other markets charge substantial tabling fees, preventing many small and emerging makers from participating and benefiting from those opportunities to connect with new customers, fellow makers, and make a profit. This is why we made the Makers Market free for our neighbors to participate in. We believe that small businesses and creative entrepreneurs contribute significantly to the vibrancy of our community, and providing opportunities for them to emerge and grow is vital for a thriving local economy and community.
In Spring 2020, we had planned another in-person Makers Market until the Coronavirus halted our plans. While we wanted desperately to be back in space together, we took this break apart to create a platform where people could sell their goods safely online. Nearly one year ago, we launched the online Makers Market at sdmakersmarket.org, and since then, we have had three exclusively online markets, each with upwards of 20 makers selling their work, sharing their stories, and connecting with our community of makers and neighbors alike. 
This November, we hosted our Holiday Makers Market, our first-ever hybrid in-person and online market. Through the rain and cold, with lots of warm drinks in hand and cozy knits from our favorite makers, it was so special to be in space together again for the in-person market. Followed up by a week-long online market, we promoted a total of 25 makers, who were supported by 400+ of our neighbors and stakeholders. We want to extend our gratitude to our friends and neighbors, Pepe Fiero, with Pepe's Bistro, and Jon Ferguson with Coffee Tech Central! Thank you for the delicious Mexican hot chocolate, burritos, and hot coffee. Thank you most of all for being our neighbors and supporting our creative community!
We can't wait to continue growing our support for our creative community, and we are excited to host three more markets in 2022 - in Spring, Summer, and Winter. We won't stop there though. We want to gather more often with our neighborhood creatives, providing more opportunities to sell, skillshare, and build community! Together with our Neighborhood Website Specialist, Choul Luak, we are on track to making the Makers Market website more accessible for patrons and makers and are building a tool kit to share this knowledge so that other communities can start their own markets too. 
None of this has been or will be possible without your support.  Thank you for the many ways in which you support our makers, from volunteering to hang string lights, to shopping the market, to donating online, and more! Together with neighbors like you, we know we can make economic opportunities like the markets more accessible and fruitful for our neighbors and strengthen our social fabric along the way. To help us continue the Makers Market into the new year, consider donating for Giving Tuesday by clicking here.