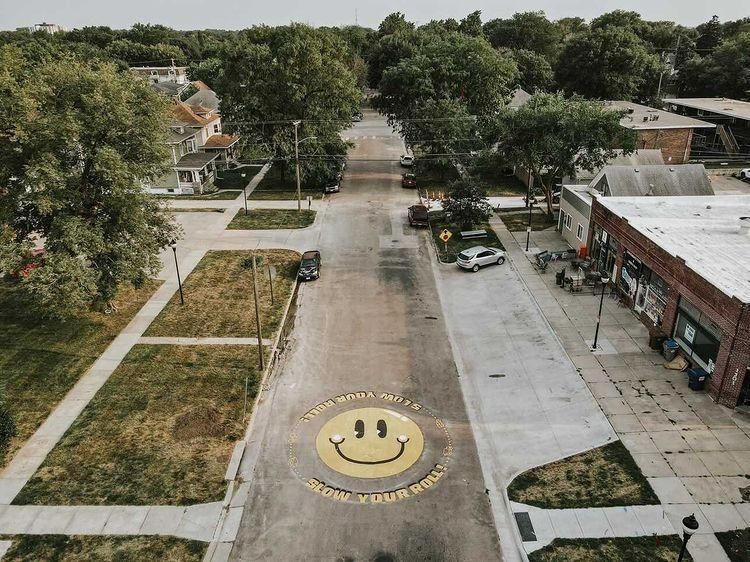 Last year, our neighbor and business owner Pepe Fierro started the 11th St Safety Meeting to discuss how we can keep our streets safe for kids, cyclists and business owners. What started as a small safety meeting with neighbors, community organizations and business owners on early Thursday mornings behind Pepe's Bistro resulted in a half a dozen nonprofits and more than a dozen volunteers organizing to paint a 20 ft street mural aimed at slowing traffic. 
After a year-long process coordinating with the city, identifying materials, and organizing volunteers, neighbors and businesses, 11th street is seeing things slow down a bit. You can watch on the corner as cars approach a pause at the wide smile encircled by little vehicles and bikes with the text, "SLOW YOUR ROLL!" read from both sides of 11th.
The mural was applied with street grade paint used for traffic markings, and while a little dirtier, the mural is not showing signs of damage weeks later. 
The Slow Your Roll street mural is a culmination of community-learning among the very same businesses and nonprofits that organized the alley entrance murals on 11th Street: South of Downtown CDO, NeighborWorks Lincoln, Community Crops, and Pepe's Bistro. The alley entrance murals painted by local artists Nolan Tredway, Jean Stryker and Gretchen Demitroff served as a welcome mat to both the neighborhood and three alley entrances along 11th, showing illustrations of monarch butterflies, the word "welcome" in different languages and a funny squirrel.
Unfortunately, despite our research, the outdoor latex paint and grit didn't stick on the alley entrances as well as organizers had hoped, and much of the murals are gone today with remnants of Gretchen Demitroff's monarch next to Cultiva and Nolan Tredway's squirrel across from Everett Elementary. The remaining paint is reminiscent of the ghost signs left on historic commercial buildings in Lincoln's Haymarket with the paint shallowly outlining text of old manufacturing businesses. These lost murals show a history, though we wish we had known enough to make them last longer, but part of working in community is learning in community. 
With the experience of the 11th street alley entrances, organizers chose to use industrial grade street paint, requiring a very limited palette for the mural. Organizers prioritized a clear message of slowing down over complicated ornamentation. The result is a durable, funny, and happy yellow face with a reminder to slow your roll as we pass the school, the playground, cyclists and neighbors dining at local businesses. As with any community project, the result isn't just limited to the product itself but also to the relationships that were built with dozens of volunteers and neighbors who stopped by to get their hands dirty or tell us how excited they were to see someone doing something about traffic in front of their homes.
The South of Downtown Community Development Organization is committed to not only creative placemaking and the benefits it brings to our community, but to placekeeping. Just like with the alley murals, we cannot promise every project will have a perfect result, but we are here to learn together. We do not want our neighborhood to only be safe because of surface level aesthetic improvements but also because of the infrastructure and laws that slow speeds. We are committed to working with the City of Lincoln and our partners to advocate for a raised crosswalk at 11th and B St among other improvements to the streets around Everett Elementary school.
The City of Lincoln has a plan to repave 11th St in the next one to three years, and the neighborhood and it's stakeholders have been clear - part of that improvement should be not only a better road, but a safer street.
We want to thank all of the organizations, businesses, neighbors, and funders who made this project possible. Everyone at those early meetings played a part: Pepe Fierro who started the 11th St safety meetings, identified the need to slow traffic and that immediate action needed to be taken, Jamie Granquist with Bike LNK organized a meeting with the city to see what that would mean, later Megan McGuffey with Community Crops and Jamie Granquist filled out a street paint application, Kat Wiese with South of Downtown designed and ordered materials for the project, Isabel Salas with SDCDO organized volunteers. We want to thank Pat Anderson Sifuentez with NeighborWorks Lincoln and Everett Neighborhood Association for providing insight along the way and Tut Kaliech with NWL for volunteering over the weekend. 
This project would not be possible without the championing of our friend Jamie Granquist at BikeLNK who worked with the City of Lincoln, Partnership for a Healthy Lincoln, and BicycLincoln to gain permits and funding, which made this project possible. Jamie also recruited her friend, the very talented photographer, Michael Reinmiller, who documented this project. Finally we want to thank all the volunteers who painted with us in the hot sun and the neighbors who came out and encouraged us. We are so lucky to be in a community of generous action centered folks, such as the individuals and organizations that made this street mural possible. This is what community looks like.
Read On:

Lincoln Journal Star, https://journalstar.com/news/local/south-of-downtown-neighborhood-community-paints-mural-to-slow-11th-street-drivers-in-lincoln/article_af9f87f1-a12c-5793-b6f0-e961939ca0fb.html

KLKN,  https://www.klkntv.com/slow-your-roll-everett-neighborhood-paints-mural-to-slow-11th-street-drivers-down/

Youtube drone footage, https://www.youtube.com/watch?v=vve1y3AqiWM, Shot by Michael Reinmiller