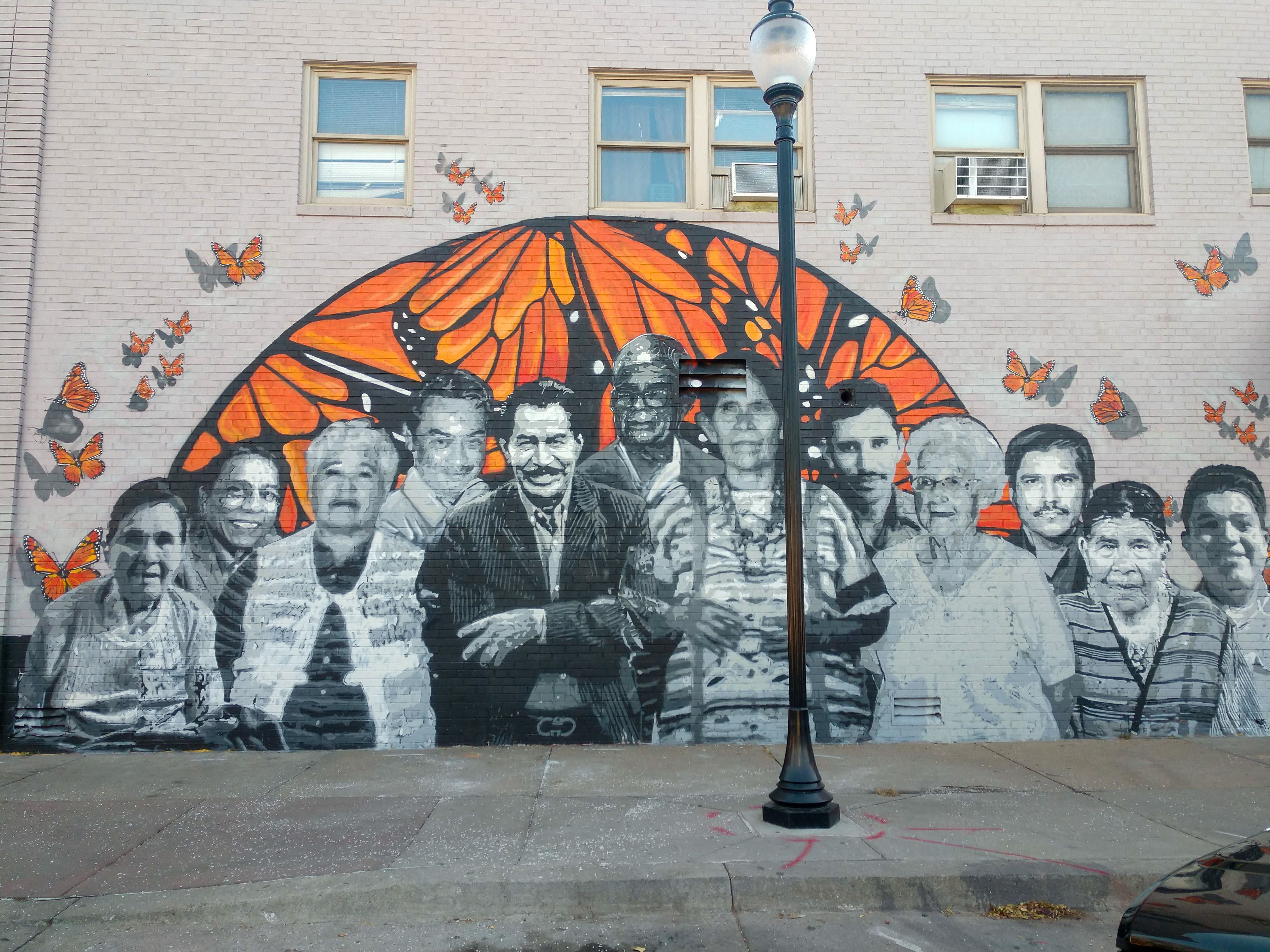 Abuelos/Raices is a community mural created by local artist David Manzanares. It was completed this November with the help of assistant Kendra Limon and numerous community volunteers. Abuelos/Raices is an urgent response to our times: a recognition of the disproportionate impact that COVID-19 has had on the Latinx community. It is a symbol of hope, resilience and the necessity of mourning. David reached out to South of Downtown Community Development Organization which organized a fundraiser receiving donations from nearly 100 community members, raising more than 12,000 dollars for the project, 2,000 dollars more than what was asked. 
The overwhelming support for the mural was matched by the passion with which it was received. David regularly experienced people trying to give him cash on the street while he painted. The mural features the deceased family members of those on the block including the father of a hair stylist next door to the mural. David says, her father "never visited Nebraska. He died in Texas. He always dreamed of visiting his daughter here and meeting our town, but today, on this special day, he can finally arrive." Other people messaged David on Instagram and described the overwhelming feeling of loneliness they were experiencing and that seeing the monarchs flying across the wall changed their day for the better. 
David's own father passed away this fall in Mexico due to the virus, as did the grandmother of his assistant Kendra.  What had begun as a community mural featuring five or seven people became 12 figures scaling up more than 20 feet. So many people had loved ones to include, not everyone could be. This November a temporary addition was made to the mural, an ofrenda for Dia de Los Muertos. The pop up ofrenda was added with little invitation from the public as the city goes into the severe zone for contact of COVID-19. Individuals from the surrounding neighborhoods still brought photos, food, and flowers for their loved ones. 
As a final addition to the mural, a plaque is being added written by David. It reads as follows:
Our indigenous ancestors said that the monarch butterflies which arrived in Mexico at the beginning of autumn were messengers for the souls of those who had died. This mural is an altar that gathers, remembers and honors parents and grandparents of families in this, our neighborhood. Some of them died years ago. Others just a few months ago, as a result of COVID-19. Nevertheless, these people gave life and love to families of Mexican heritage who, with their daily activities, contribute to make our city a better place to live. This community altar makes our stories, our voices visible, links us as neighbors and welcomes those who come to visit or live here.
It is clear that to David, and to the surrounding neighborhoods, Abuelos/Raíces, is much more than simply pigment on a wall: it is a deep reckoning with our loss and with the spirit that connects us to our ancestors and one another. 
This project was organized by the South of Downtown Community Development Organization thanks to the financial support of dozens of our neighbors with significant contributions from the Lincoln Arts Council, Southeast Community College, Rhonda Seacrest, and The Duncan Family Trust.