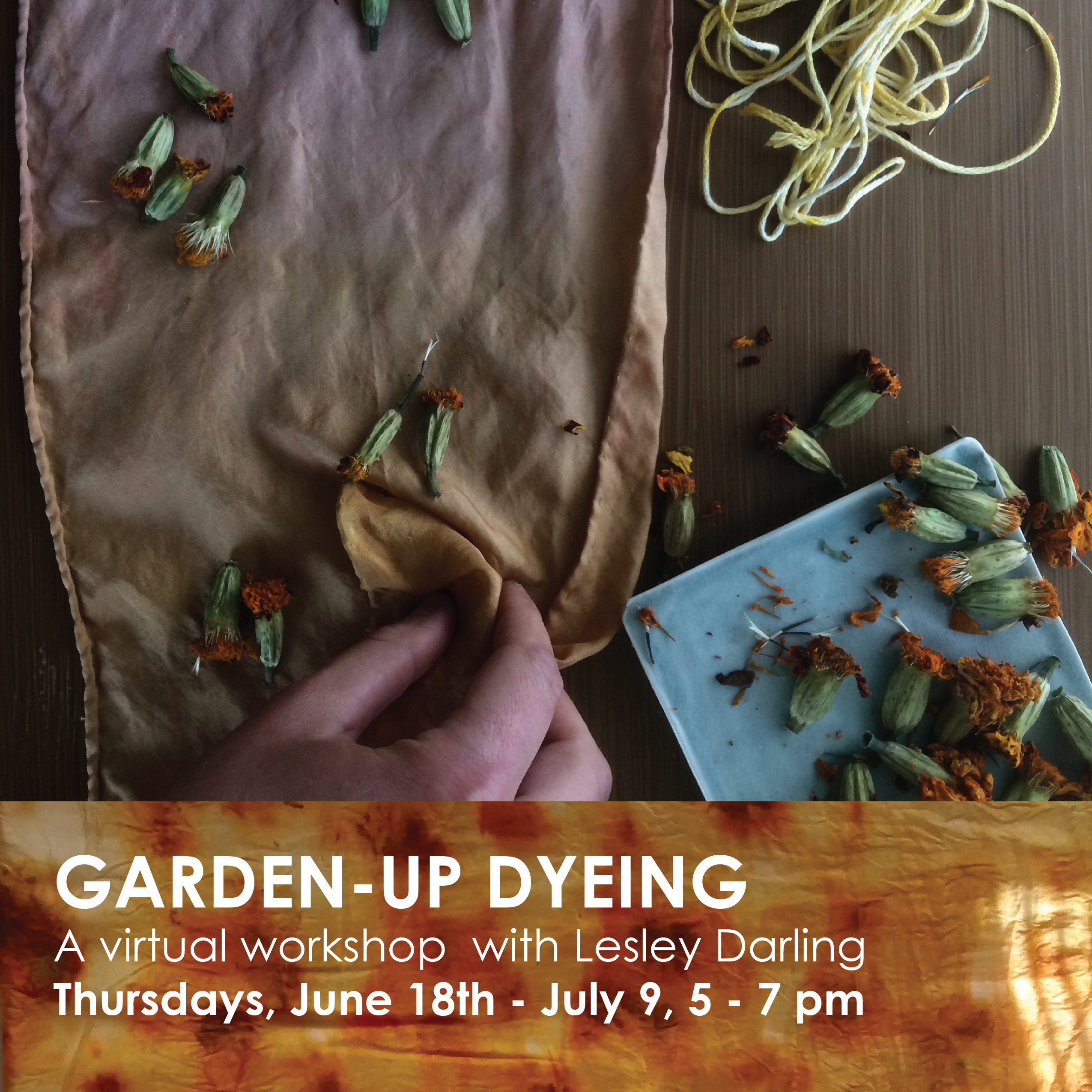 Learn how common plants and flowers can bring natural color to your wardrobe and household items in this virtual, 4-week workshop. Over the course of a month, students will dye 2 silk scarves from the provided kit, and optionally an item from their own wardrobe. All materials provided, though access to a stove is helpful. Zoom sessions include a formal virtual slides presentation of dye history and methodology, and also to walk through the upcoming week's project. Participatory - students ask questions, may take notes, etc. All will receive access to the slide document after Zoom meeting. Presentations will also include short segments of pre-filmed footage demonstrating techniques which you will have access to in perpetuity via Youtube.
Students who register from the focus area will receive a free dye kit including all necessary materials for all classes if needed (option for printed handout). REGISTER for a free kit (free for neighbors only) by June 14th. This class is for individuals 13 years of age and older and adults and families (7 and older).
If you would like to participate but do not live in the Near South or Everett neighborhoods, you may sign up below to be waitlisted. As the program is grant funded, you will be responsible for paying a $50 materials fee to South of Downtown Art Hub. More details below.
Start saving yellow and red onion skins if you can because we can use it for dyes!
Instructor Bio:
Lesley Darling is a native of Lincoln, whose love of fiber has led her to sheep farms in Wales, weaving studios in Sweden, and folk schools around the US. She loves to teach beginners and advanced students in a fun, accessible manner. In addition to historical and regional knitting and weaving techniques, she works in traditional hand spinning, and locally grows and forages botanical dyes. She has worked alongside renowned knitter Nancy Bush learning Estonian techniques, dyed with Shetland's textile historian Elizabeth Johnston, and taught workshops throughout the Midwest and Appalachia.