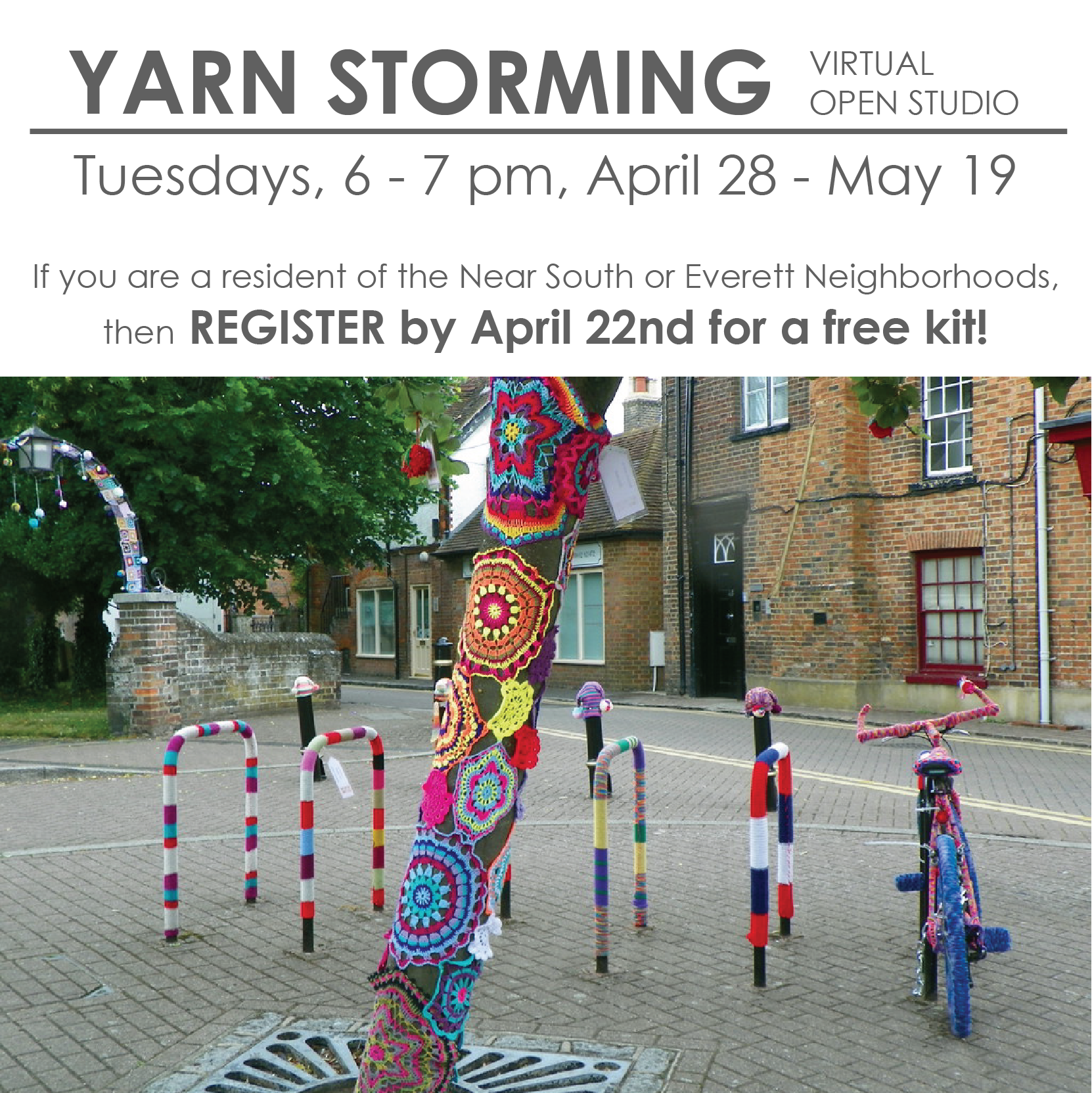 Yarn storming is a form of street art created by artist Magda Sayag over ten years ago. Today artists all over the world are using yarn storming as a way of beautifying public space, elevate what's traditionally been considered women's work, and subvert the mundane. South of Downtown is working with community partners to use yarn storming to beautify alleys along 11th Street. In the true nature of fiber street art, we will cover poles and street lights in alleys with knit and crocheted swatches to personalize our unique urban landscape.
All experience levels are welcome, including beginners! If you are an experienced fiber artist you are welcome to work independently according to various provided dimensions (and we will help with any questions!). This is a virtual open studio via Zoom so you may attend as many or as few classes as you would like. All materials provided upon request for residents in the Near South and Everett Neighborhoods.
Register by April 22nd to receive a free kit. Others may participate with personal materials. You do not need to be a resident of South of Downtown to participate! There is rolling registration for anyone who does not need a free kit. Please still register as this helps us track how well we are serving our neighbors!
Instructor Bio:
Lesley Darling is a native of Lincoln, whose love of fiber has led her to sheep farms in Wales, weaving studios in Sweden, and folk schools around the US. She loves to teach beginners and advanced students in a fun, accessible manner. In addition to historical and regional knitting and weaving techniques, she works in traditional hand spinning, and locally grows and forages botanical dyes. She has worked alongside renowned knitter Nancy Bush learning Estonian techniques, dyed with Shetland's textile historian Elizabeth Johnston, and taught workshops throughout the Midwest and Appalachia.
Register by emailing kat@lincolnsouthdowntown.org
Free materials registration deadline: April 22nd
Rolling registration if you do not need a free materials kit!
To participate in the virtual studio time you will need to have access to a laptop, phone, or tablet. We recommend video calling into the class. If you wish to receive materials but have no way of video calling, you may also do that if you are resident of the focus area.