Sunday Social: A Call for Cultivators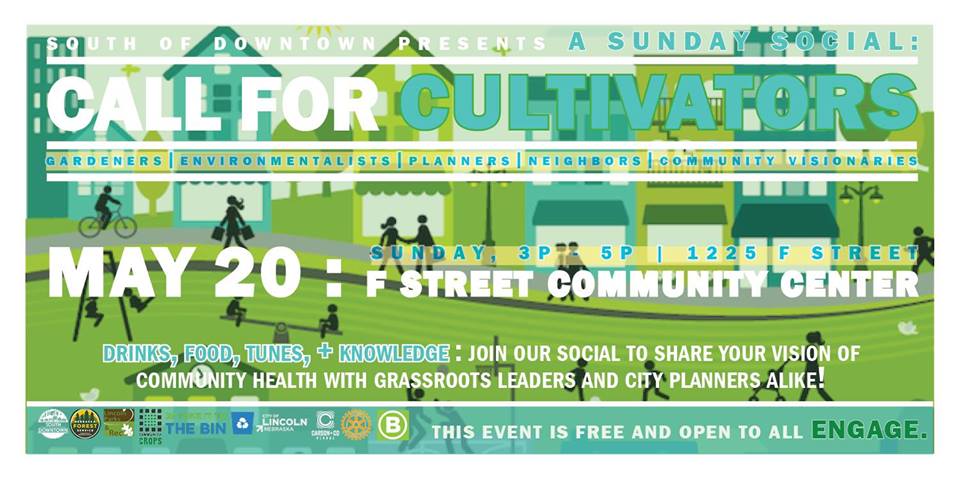 Join the conversation about your community's health. We've invited partners throughout the Lincoln and South of Downtown areas to express ideas, goals, and city plans for the spaces we share. Come be a part of the conversation -- bring your family and your friends.
These conversations aren't the same without your voice!
Join a discussion with:
Jeanette Nakada: Lincoln Repair Cafe
Nicole Effle: Community Crops
Jes Slavin: Bike LNK
Kendall Weyers: Nebraska Forest Service
Jamie Carson: = Carson+Co Global
Frank Uhlarik: City of Lincoln, Mayor's Env. Task Force
Jennifer Brinkman: Rotary 14
______________
More Information:
South of Downtown is hosting a Sunday Social in the outdoor green space of the F Street Community Center -- for an afternoon of grassroots organizing and public efforts to enhance the resiliency of our neighborhoods!
We'll have food, drink, music and facilitated discussion - talking neighborhood biking, sustainability, urban reforestation, led lighting, recycling, community gardening, and of course, your vision of a healthy home!
We'll conclude the evening by planting two trees along F Street, side by side with Rotary 14, who has agreed to partner with us on our efforts toward urban reforestation. (We'll be losing almost 50 trees along F Street alone, to the Emerald Ash Borer!)
**Join our efforts toward sustainability by adopting a tree, caring for a garden, helping your neighbors recycle, and of course, simply joining the discussion!